A visit to the coral reef for primary science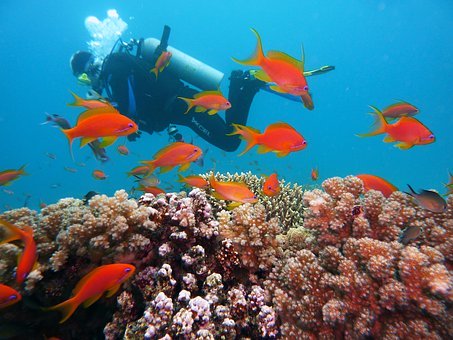 Encounter Edu designs and delivers sponsored STEM and global learning programs, transforming education inside and outside the classroom. Specialising in producing live lessons on global topics for the classroom, they create bespoke education programmes designed to engage and inspire. Their immersive learning experiences give students the necessary understanding and skills to tackle the world's most pressing issues.
AXA Coral Live returns for this autumn running from 9-19 November 2020. This year we have made it easier for teachers to choose the lessons suited to their class and we have a special focus on primary science with six live lessons designed for the key stage 2 science classroom.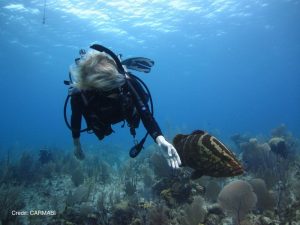 Dr Kristen Marhaver, one of the AXA Coral Live speakers, meets a grouper while researching on the reef
Why live lessons?
Live-streamed lessons have moved from a nice-have to a must-have tool for teachers over the past months of school closures and corona-caused disruption. The live lessons offered by Encounter Edu continue to offer students learning experiences not possible in the classroom.
The key stage 2 (upper primary / elementary) programme of study for science seeks to deepen students' biological understanding through comparing and contrasting processes and examples from their local environment with less familiar habitats, such as the ocean.
Coral Live 2020 offers these opportunities by taking young people to the reef and investigating what might be familiar concepts such as life cycles, adaptation, food chains, and human impact on the environment, but in new contexts.
The lessons also offer students the chance to speak to practising scientists and develop their understanding of working scientifically, alongside a better sense of science careers.
After the rush to online learning, we are continuing to work on our live lesson offering to make sure it remains a useful and impactful part of the learning blend in your classroom.
Keeping it flexible…
We understand that it can be tricky to fit live lessons into your teaching schedule. All lesson can be viewed on catch-up, shortly after broadcast on the individual live lesson pages either in the classroom or at home.
Do still 'book' the lessons as a teacher, to submit student questions or a shout out for your class. You can find out further details here.
This blog was written by Jamie Buchanan, Encounter Edu.
Wow Science comments…
There are so many high quality, freely accessible materials to support learning at all levels on the Encounter Edu website. We recommend you take time to explore the website to make the most of them in your lessons and for professional development opportunities.
---
Back to blog