British Science Week Prize Draw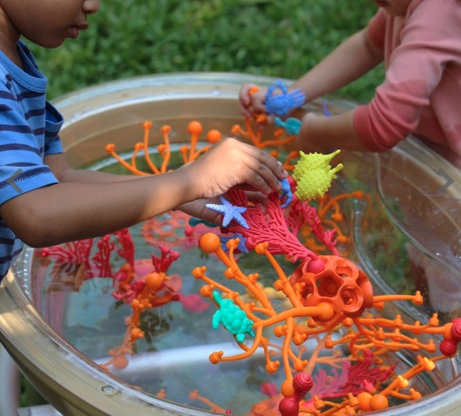 To celebrate British Science Week, Wow Science is delighted that Early Years Resources is offering our readers the chance to win one of 4 amazing 'Coral Connections' sets to help young children create an underwater environment, showcasing the natural and organic beauty of coral reefs.
Details of how to enter the draw are provided at the end of this Early Years Resources blog, so read on and enjoy some great ideas for activities to excite younger children during British Science Week! In each case, EYR has produced a short video clip to help you too.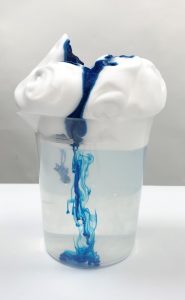 Rain cloud experiment – weather investigation
Link: https://youtu.be/NELGchmP2-E
This simple science experiment is a great visual resource to accompany your weather topic. It can be used to demonstrate how rain accumulates in clouds making the clouds full and heavy and causing the rain to fall to the ground; perfect for answering questions and sparking discussion about weather.
You will need:
Clear jug
Play foam/shaving foam
Blue food colouring
Pipette or spoon
Water
What to do:
Fill your clear beaker with water leaving space at the top.
Add your play foam to make the cloud.
Use a spoon or pipette to add drops of food colouring on top of the cloud.
Watch as the colouring works its way through the cloud and drops into the water just like rain drops.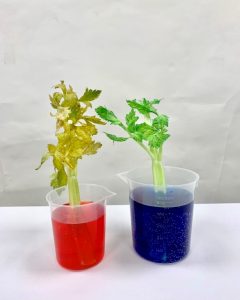 Colourful celery – Investigating plants
Link: https://youtu.be/KjT3XlFufP4
Use this easy science experiment to help children understand more about plants and how they function. They can observe how the plants change colour and this can spark questions and conversations into plant functions, supporting KS1 science learning.
You will need:
A beaker, jug or tall container
Water
Food colouring
Celery or another leafy plant (you could try flowers with white petals)
What to do:
Fill your container with water.
Add your food colouring and mix.
Add your celery/plant to the water.
Leave overnight.
Come back in the morning and observe the colour changes!
'Tuff tray' motions experiment
Use this fun experiment to test and understand properties of materials and their effects on motion! A great way for children to practice science skills like investigation and observation. This simple experiment can also be used to promote further discussion, such as: Why do certain materials cause the cars to slow down? What can be added/removed to make the cars move quicker?
You will need:
Tuff tray and stand
Chalk
Toy cars
Timer
Various materials – why not try sand, glue and soap
What to do:
Set your tuff tray at an angle and draw your race track onto the tuff tray.
Add sand to one lane.
Add soap to another lane.
Add glue to a third lane.
Add your cars and time their movement along the track.
Discuss your results! What material made the cars speed up/slow down? Why? How can you make them faster/slower?
PRIZE DRAW
To enter the prize draw for one of 4 sets of Coral Connections, visit the Early Years Resources competition webpage here:
https://www.earlyyearsresources.co.uk/british-science-week-competition-i254
Remember, there are 4 sets on offer, so 4 chances to win!
---
Back to blog