On a mission to inspire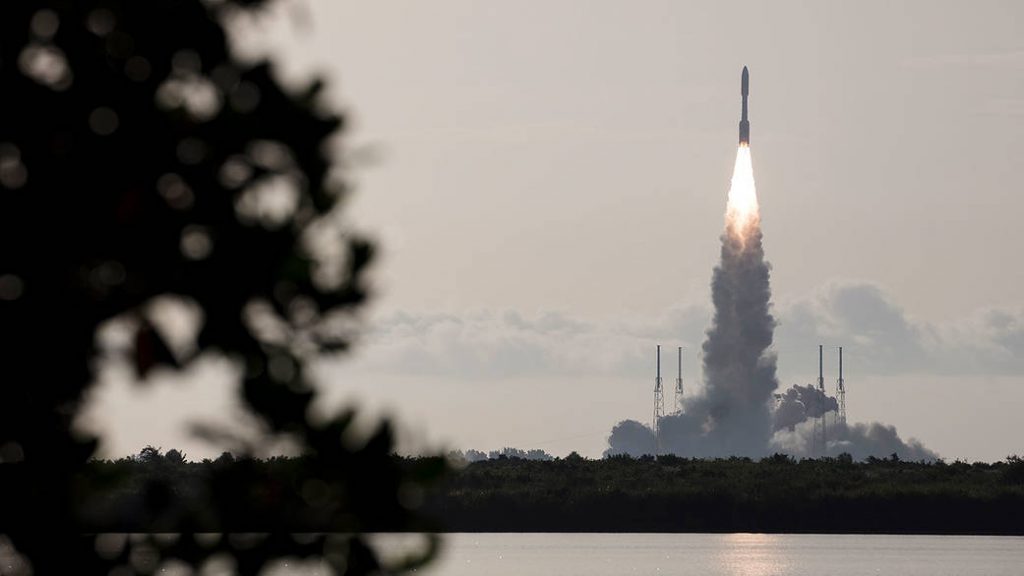 On a day when NASA has launched its latest mission, to put the Perseverance Rover on Mars, we consider how space is a naturally engaging subject for children, with numerous opportunities and resources to support children's exploration of the subject.
Primary Science Teaching Trust's Programme Director, Sue Martin, reflects on how watching the Apollo missions inspired an interest in space exploration that continues to this day.
When I was two years old, my parents sat me (and my elder brother) in front of the television as Apollo 11's lunar module, Eagle, landed on the surface of the Moon, July 20, 1969. Hours later (it would have been 3:36am on 21 July), they woke us up as Armstrong and Aldrin each set foot on the lunar surface. I know this, not because I can genuinely say that I remember the experience on that date but because my parents told me years later. They realised the significance of the event and wanted us to know that we had seen it live. I do have really good recollections, however, of astronauts in a lunar rover and even stronger memories, waiting for the appearance of the command module as it came through the atmosphere and of the enormous parachutes – these are almost certainly from later missions of course, but given that the last mission, that of Apollo 17, was in 1972, I could have been no more than 5 years old. I remember the tension, the excitement and I was captivated; the memories are so strong that even now, I can put myself in the room, remember where I was sitting on the floor and also feel what seemed like a very long wait to see that capsule appear in the sky and head for its splashdown.
I mention all of this because I am sure that my love of science, my fascination with space, stemmed from these very early experiences. Over the last week, I have watched the ISS pass overhead nightly and spotted other satellites, apparently moving amongst the stars, and each time I feel a similar sense of awe. I never wanted to be an astronaut – I'm not brave enough – but I can't shake the feeling that it would be awesome to experience space first-hand. Later this week (or early next), NASA plan to return the Crew Dragon capsule, currently docked on the ISS, with astronauts Bob Behnken and Doug Hurley on board, and I will be eagerly awaiting this SpaceX mission's splashdown and expect that same excited feeling as I had when the Falcon 9 rocket lifted them from Earth.
So why am I sharing these thoughts? Well, years of teaching showed me that there are very many children who are excited by the concept of space, particularly space exploration. As educators, we do our best to create moments of awe and wonder in the hope that children will be inspired and will aspire to careers that excite them. And there is so much potential for bringing space into the classroom and plenty of resources to support children's learning.
India's space agency has announced its intention to send its first human mission to the Moon by 2022, having planned a robotic Moon mission for 2021. The United Arab Emirates and China have orbiters currently en route to Mars, hoping to join operational orbiters around the planet from India, NASA, the European Space Agency (ESA) and ESA/Russia, in 2021, and further missions are proposed. Today's launch of an Atlas rocket to carry the Perseverance Rover to the surface and join other rovers is just another step towards the eventual travel of humans to the Red Planet.
We can capture children's imagination as space exploration continues to advance across the globe. Not all will want to become astronauts, but the desire to find out more, to question the possibilities, to think critically and to investigate are essential skills for everyone. We can enthuse primary school children using these (and many other) space missions in the classroom. Many will have already experienced the 'Tim Peake Effect'. Similarly, space missions present an excellent opportunity to highlight female achievements and diversity in role models: Ritu Karidhal and Nandini Harinath, Deputy Operations Directors, India's Mars Orbiter Mission, for example. (Read more at: https://www.bbc.co.uk/news/world-asia-india-38253471). More than 45% of the UAE' space agency is female. NASA has announced that the pilot for the second operational SpaceX Crew Dragon flight will be Megan McArthur.
On the Wow Science site, there are numerous links to resources to support teaching and learning, from apps to track satellites through the night sky, to videos, games, quizzes activities and images:
https://wowscience.co.uk/?_sft_category=earth-and-space
Children might like to design and test their own 'Rugged Rovers' with this free app for iPad and iPhone:
https://apps.apple.com/gb/app/rugged-rovers/id945717780
For the younger explorers, you could start by sharing CBeebies Stargazing:
https://wowscience.co.uk/resource/childrens-bbc-stargazing/
If you're looking for interviews with astronauts and scientists working in the space industry, I love the Unlimited Space Agency!
https://wowscience.co.uk/resource/unlimited-space-agencys-youtube-channel/
The Primary Science Teaching Trust has a great resource linking science to two engaging subjects for children: space and football. Check out these 'City Science Stars' resources for lesson ideas:
https://pstt.org.uk/resources/curriculum-materials/city-science-stars
I would certainly urge you to: provide opportunities for practical investigation, particularly linking this to news items on space and with footage of actual missions; encourage children to think about possibilities arising from space exploration; and discuss the reasons we explore, the challenges and achievements and how these relate to the children's own lives.
All images from NASA: https://www.nasa.gov/multimedia/imagegallery/index.html
---
Back to blog