Getting a Kick out of Primary Science with Leicester City Football Club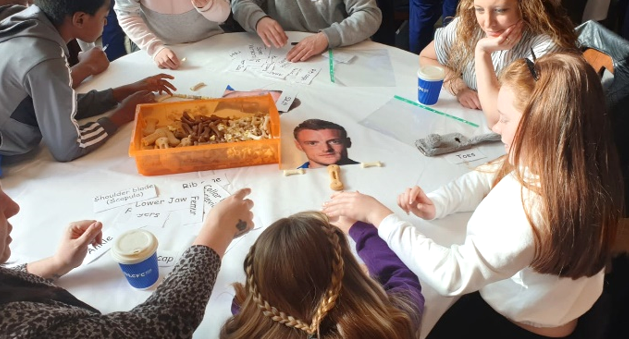 Nine months ago, and fresh out of a bioscience PhD, I was looking for my first proper job and an opportunity to share my passion for science with new and challenging audiences.
However, I did not expect this opportunity to come in the form of STEM outreach with 2015-16 Premier League champions Leicester City Football Club (LCFC).
Unbeknownst to me at the time, LCFC is just one of many UK football clubs to have a thriving charitable arm that are always looking for new ways to support their community through education, social inclusion and health programmes.
I joined Leicester City in the Community (LCitC) in October 2018 and was quickly enthralled by their hands-on approach to engaging with young people and their delivery of educational workshops to primary school pupils. While they were having great success with their reading, writing and PSHE interventions, it was clear that something was missing – and that's where I, their newly hired STEM (Science, Technology, Engineering and Maths) Coach, came in.
Project Gooooooaaaaaalllllls!!!!!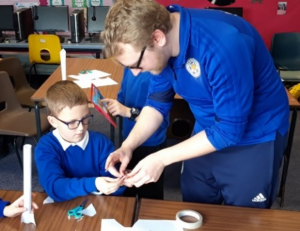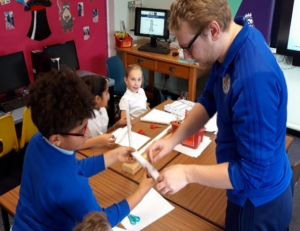 Dr Alex helps pupils Morgan and Jeremiah build their rockets
Born out of a response to the reported challenges in teaching science faced by primary school educators, including a lack of time, resources, subject knowledge and curriculum priority, the Primary Science Teaching Trust (PSTT) and LCitC partnered up in 2018 to develop and deliver a programme of exciting and engaging hands-on workshops to the youth of Leicestershire. PSTT regional mentor Sarah Eames took up the challenge and set about crafting the workshops that would eventually become the City Science Stars programme. Being a Leicester-centred project certainly has its advantages, with a strong sense of community pride following the unlikely success of the LCFC (the bookie's odds of winning were 5,000 to 1 – which is incidentally now the name of the LCFC maths programme) and the fantastic National Space Centre right on our doorstep.
Following on from Sarah's involvement, my job was to finish developing the scheme of work and to deliver it to young people across the county. So far, the project has proved to be very popular with both pupils and teachers, but on a more personal level, this project has offered me a high amount of flexibility and creativity during development and I was encouraged to incorporate my own ideas and interests into the workshops. With a research background in animal flight, I was in my element running a workshop that linked bird biodiversity with bio-inspired engineering and the physics of football through an experiment featuring a classroom prankster's staple tool – the paper plane.
Engaging the Players
So what is City Science Stars? The workshops cover major KS2 topics such as forces, states of matter, classification and biological adaptation. One perennial favourite is our "Kick Off to Lift Off" workshop, which links Newton's laws of motion to football and rocket science, and encourages pupils to build and launch their own paper rockets. This particular activity is especially popular with teachers as it is not only tremendous fun, but it also incorporates all STEM subjects through the physics of rocket launches, the technological history of space exploration, the engineering challenges of rocket design and the maths used to measure the performance of their launches!
While the City Science Stars project is intrinsically linked to the KS2 curriculum, I wanted to take the opportunity I had been given to expand on the curriculum topics and link them to topical leading-edge research and practical applications such as the exploration of Mars.
Since January 2019, we have now delivered the City Science Stars project to almost 400 pupils, including an out-of-this-world event at the National Space Centre and a careers event for families at the King Power stadium which focused on showcasing the possible STEM career pathways of people working for LCFC, including the head physiotherapist, a sport scientist, the head of IT and myself!
LCFC Legend Steve Walsh and LCFC Primary Stars Coordinator Emma Lowry chat with the pupils of Seagrave about their rocket designs
Match Analysis
The feedback on the project from participants and staff alike has been fantastic, with particular praise for the fun and exciting approach to the topics that have helped to engage pupils that were previously struggling with science in a classroom setting. From the post-programme surveys that we collected, we have found that 94% of children answered positively when asked if they enjoyed the sessions in a post-programme survey, with 77% of children saying that they "loved them".
I have been especially buoyed by the huge reported improvement in STEM career awareness, with positive responses increasing from 23% to 63% over the course of the programme. This improvement is largely due to the inclusion of contemporary role models in the City Science Stars programme such as Dr Susie Imber, an astrophysicist at the University of Leicester and winner of the BBC's "Astronauts: Do You Have What It Takes?" .
A selection of pupil and teacher quotes:
"I love comparing football to science, it's so cool." – Huey, Year 4 Seagrave pupil.

"It was brilliant, I loved making our rocket!" – Beth, Year 6 Seagrave pupil.

"This has been the most fun science session I've ever had." – Year 5 pupil at Krishna Avanti Primary.

"I'm interested in learning about jobs in science because of these sessions. Thank you!" – Jacob, Year 4 pupil at Beaumont Lodge.

"City Science Starts really helps to promote the subject and makes the children really enthusiastic – and because they're engaged, they're wanting to learn more. We've had brilliant feedback from the kids, and they've come back really excited and can't wait to share what they've done with Alex." – Holly Crowfoot, Science Lead at Alderman Richard Hallam school.

"The City Science Stars sessions at Stokes Wood Primary School were a huge hit with Year 5 and Year 6 children at our school. The after-school club helped us to enrich our science curriculum, fostered the curiosity of our pupils and consolidated their learning in regular science lessons." – Bhavesh Patel, science leader at Stokes Wood Primary School.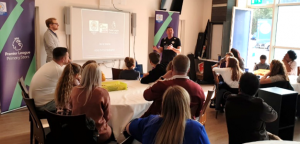 Dave Rennie describes his path from Primary School to Head Physiotherapist with LCFC
Passing it Forwards
While the project has been a great success so far, I'm not content to stop exploring and incorporating new ideas. We're currently expanding our range of curriculum topics and even branching out into a wider spectrum of additional STEM-related projects, including promoting outdoor learning and building on the popularity of video games with young people to explore the world of sports hobbies and careers. For example, a recent trip out to Bradgate Park with some children in care provided an excellent opportunity to incorporate my passion and knowledge of the natural world through the means of a nature scavenger hunt!
If you're at all interested in the resources that I have been working on this year, you're in luck, as the intention has always been to provide a set of resources for teachers other football club communities. Sarah recently delivered a workshop to introduce more teachers to the project and its resources at the PSTT's Primary Science Education Conference (PSEC 2019) in Edinburgh. She has also been selected to present the project as part of the UK's delegation to 'Science on Stage Europe' which takes place in Portugal in October and this will extend the reach of the resources to a wider European audience.
Resources
The PSTT has now made the City Science Stars resources available here: https://pstt.org.uk/resources/curriculum-materials/city-science-stars. They are free to download and use.
Finally, here is a case study video about the project:
Dr Alex Evans
---
Back to blog